Creating a Google Performance Max Ad Campaign
In your Google Ads account, click "Add New Campaign". Then select "+ New Campaign".


Performance Max works with goals (sales, leads, site traffic, store visits) as well as without a goal. We choose the most suitable target for us.



When choosing a campaign type, click on "Maximum efficiency" (Performance Max).



If you have an online store, you need to link your Google Ads account to the Google Merchant Center, which will display the data feed and country of sale. In the absence of an online store and Merchant Center, Performance Max will work, but not as a merchant advertising campaign.

Campaign name
In the title, it is desirable to clarify the type of campaign (in our case, "Performance"), then the product line and brand (for a better reference in the account). For example: PMax: Smart Bicycles (Active Land).

Daily budget
It is advisable to use 20-30% of your account's allowable daily budget.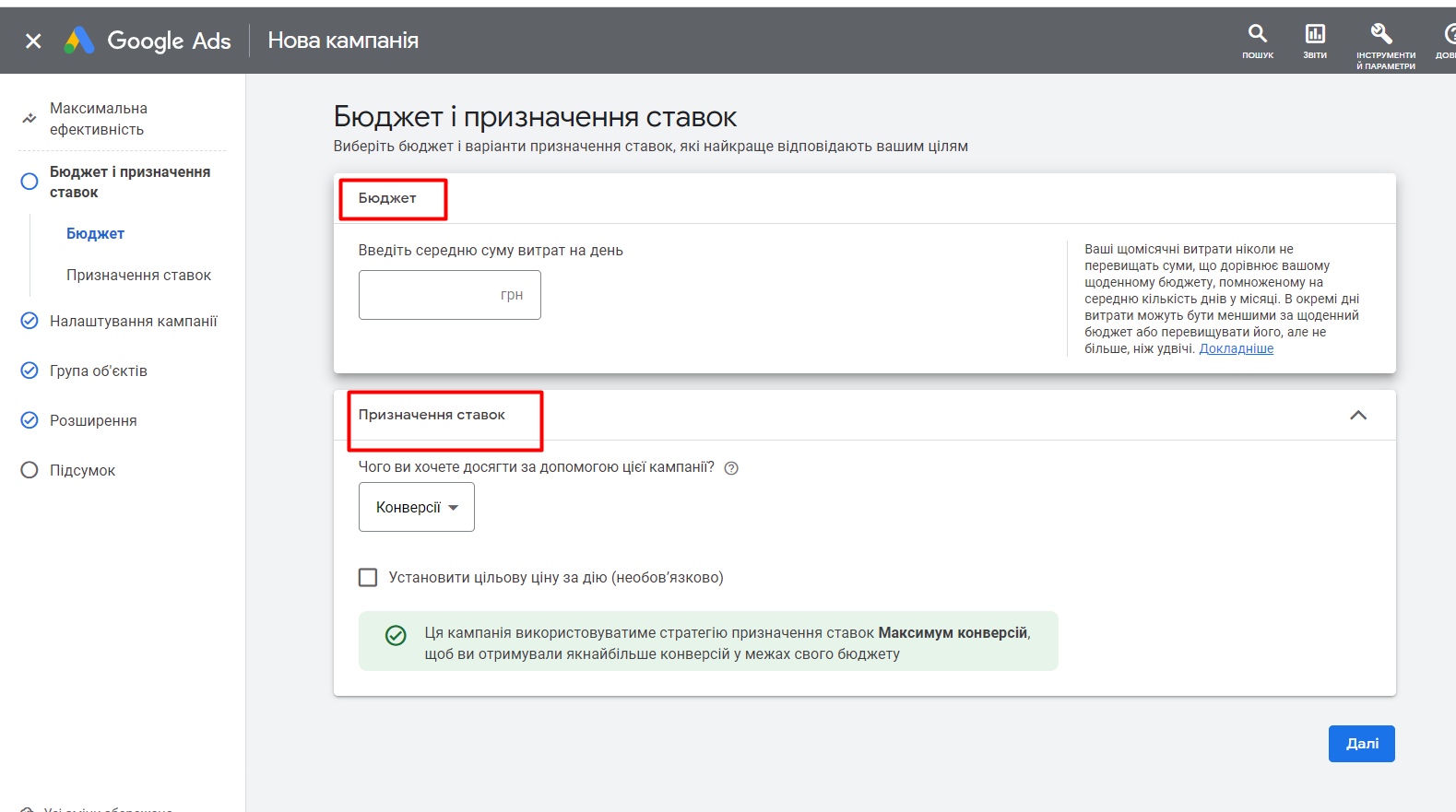 Bid Strategies
It's better to start with a "Conversions" strategy and not set a price target. The campaign should work and analyze users, so you should not initially limit it

But the "Conversion Value" strategy should be used when you can already see how the advertising campaign works. If an ad campaign works well without establishing value, then of course there is no need to change the strategy. But if an advertising campaign spends more than it brings in profits or does not make a profit at all, then we set the value of the conversion.

If you have a value set, Google will target it. If you set a very high value, then the advertising campaign may simply stop. Google will not be able to find the right audience for it to convert for a given value.

Here's how to calculate ROAS (Target Return on Ad Spend).

We use the formula:
conversion value ÷ ad spend x 100% = target return on ad spend (ROAS) percentage.

For example: if your goal is to earn an average of five hryvnias from sales for every hryvnia spent on advertising, the target return on advertising investment will be 500%.

We select the locations for which we will set up ad serving. Do not forget to exclude non-target regions (occupied territories, if you are targeting Ukraine).

Languages
Be sure to select "All" so as not to reduce coverage, since here we mean exactly the language of the user's browser.


It's best not to use an impression schedule in this type of campaign.
When a campaign is stopped and then started (for example, you only schedule impressions during working hours), then the results will be much worse than if you do not use the impression schedule. We can set an end date for our advertising campaign if you have some kind of short-term promotion with a deadline.

Replacing the final URL


In these settings, we can filter out the pages of the site that should not be included in our advertising campaign, such as contacts, shipping, payment, etc. We can exclude these URLs from the list or set some rules and click "Save".

Campaign URL Parameters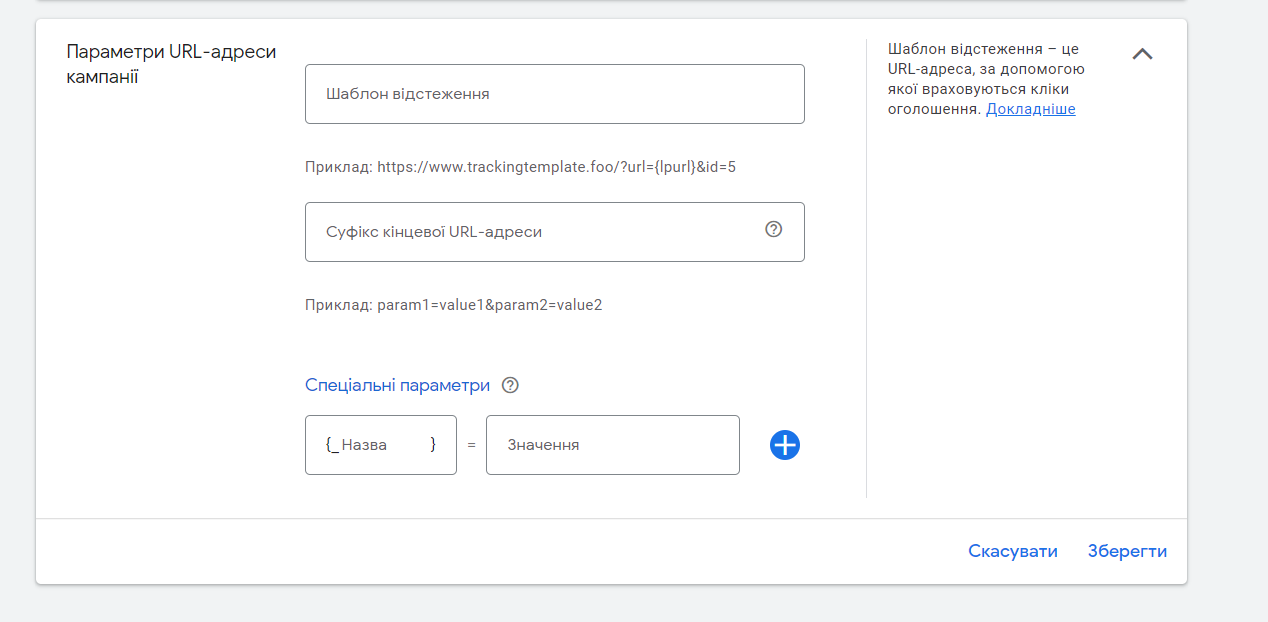 Here we can specify URL campaign parameters so that we can see in our CRM system which campaign attracted this client. Using the UTM tag, we can set the value of the variables, the name of the campaign, as well as the keyword and traffic source. Thus, we will fully monitor the effectiveness of advertising campaigns.

Create an ad
It is important to fill in all the objects in the ad (URL of the advertised website page, images (up to 20), logos (up to 5), videos (up to 5), titles, description, campaign name and display path).

Adding an Audience Signal
When you run Google Performance Max, you need to add Audience Signals. Thanks to them, the campaign with maximum efficiency can determine who is most likely to convert. The signal may contain your data (remarketing and email lists) or special segments (special audiences). This may be users who have completed transactions with us, or other audiences. You can also add keywords to the signals that users will use to search for your product.

Your signal's Performance Max campaign finds new users with the same or stronger purchase intent. Because of this, it allows you to get more conversions on the search, display and video networks, as well as on other platforms.

Demographic data is also available. If you know the gender and exact age of your target audience, you can focus specifically on it.

Be sure to add Campaign Extensions.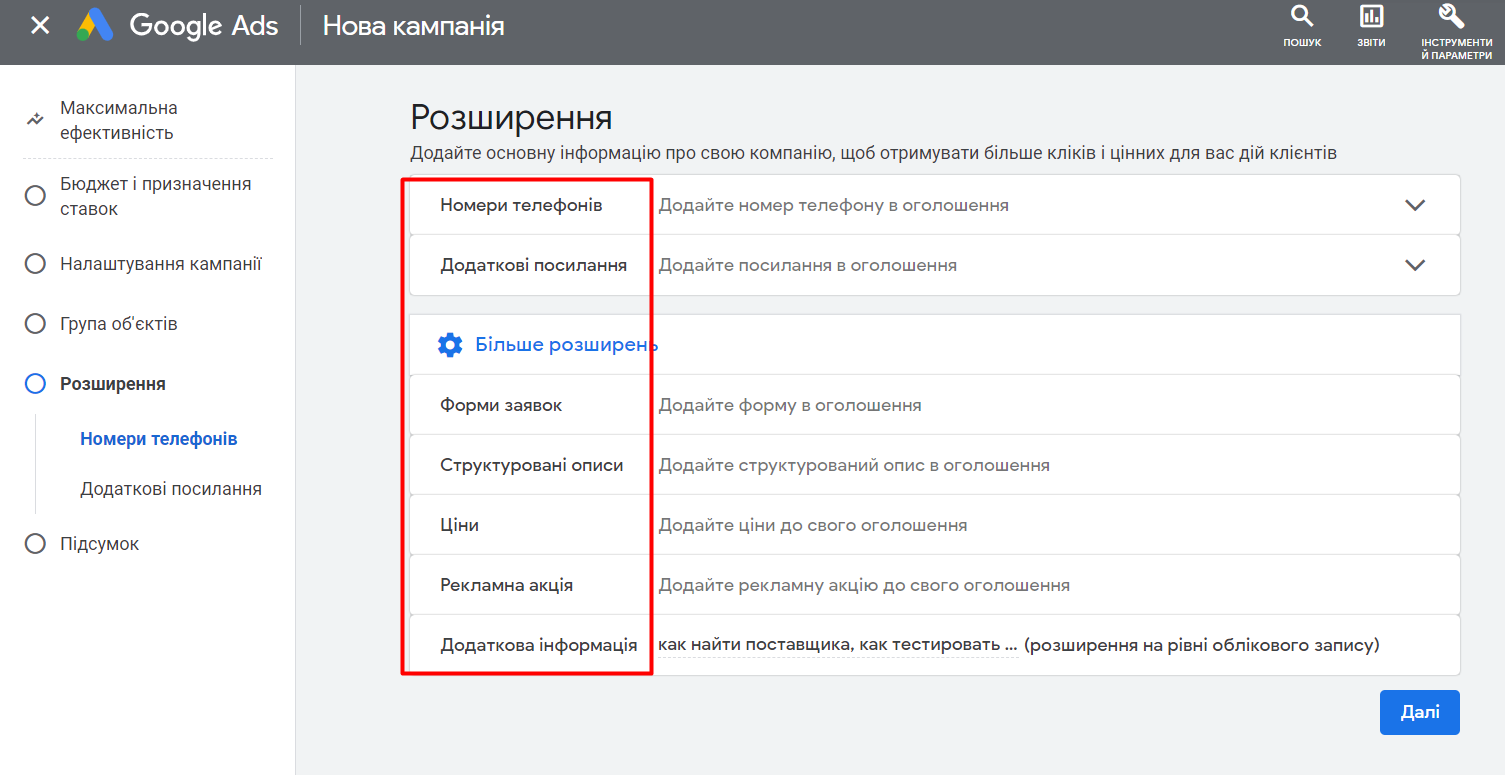 It is necessary to select additional links relevant to your ad, be sure to use all the proposed extensions (clarifications, structured descriptions, phone number, address, promotions).


There can be several groups of objects in one campaign, but we must remember that we can add extensions only at the campaign level!

We wish you maximum ROAS from your setup. If you have any questions, fill out the form on the website and we will be happy to help you.

Team Lead PPC Oksana Kharitonova